The Mexican National Lottery is really cool. We can name several reasons for that, including the fact that its history goes way back. It also has some great lottery games and a big Jackpot. And, also important, a ticket for the National Lottery doesn't cost much. Enough reasons to try this unique lottery. In the following article we' ll tell you more about it.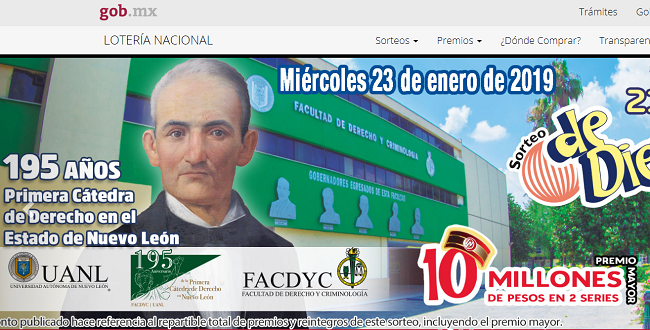 The long history of the National Lottery
Many centuries ago, when Spain was a colonial power, King Charles of III and Viceroy Marques de Croix decided to support the proposal of Francisco Javier de Sarria to start a lottery. He got his idea by looking at a couple of European Lotteries and decided to introduce to introduce it in Mexico as well. He made an own lottery and called it the 'Mexican' system. However, it took a while before the first Latin-American lottery became a fact. The 'Real Lotería General de la Nueva España' was born on the 7th of August 1770. On that day the New Spain heard that the a very first lottery draw would take place soon. Nine months later, on May 13th, 1771, numbers appeared during the very first draw.
Donations to charities in Mexico
Ten years after the first draw, in 1781, the orphanage Hospicio de Pobres received good news. It heard from Viceroy Don Martin de Mayorga that it would receive a part of the revenue of the lottery. It was the precise moment when the lottery and public causes in Mexico became intertwined. Almost 30 years later, in September 1810, two separate lotteries were established. Back then Mexico was involved in the Independence War. One lottery was organized for the state and the other one for the capital. This was done to fight against the insurgency, and it worked.
Who benefits from the lottery contributions?
Nowadays the lottery is an important part of the Mexican gambling culture. The current president of the National Lottery of Mexico is Mr Porfirio Diaz. It has supported many public causes over the years and contributed a lot of money to the Castaneda mental hospital, which is located in Mexico City. Several constructions have also benefited from the lottery contributions, as well as medical assistance. The Mexican name of this popular lottery is 'Lotería Nacional para la Asistencia Pública'. You can find it on the Moro building.
Exciting lottery games
Its long history and contributions to charities are not the only great things about the Mexican National Lottery. Participants also love the many exciting lottery game it offers. Besides the wide variety of games it also has and one instant lottery known as Keno.
Perhaps it's your dream to become rich one day. In that case participating in one of the Mexican National Lottery games is not a bad idea. The Draw Mayor is great fun, for example. A draw takes place every Wednesday, in which participants can win more money than they can ever imagine! You only have to pay a ticket of 25 dollars to enjoy this game. The winning odds are 1 in 3. If Lady Fortune is at your side, you can win an incredible 300.000 pesos!
Another great game is the 'Gordito' draw every Wednesday. If you're lucky, a bounty of 10 million dollars can be yours! The winning odds are 1 and 4 and you only have to pay 10 dollars to have a chance on 250.000 dollars! So grab some Nacho's when you're in Mexico and buy a ticket for the National Lottery, because you might return home as a rich man or woman!
Superior Sweepstakes
The so-called 'Superior Sweepstakes' take place every Friday. The main prize is 15 million pesos. If you buy a ticket of 30 pesos, a big prize worth 375.000 pesos could be yours. Hopefully luck is at your side, because the odds are 1 in 5.
Special Sweepstakes
Once a month, Special Sweepstakes are organized as well. It's very popular, since the Jackpot is worth 25 million dollars! Winners who 've invested 50 dollars in a ticket, take a nice share of 625.000 dollars. The winning odds are 1 and 5, so enough reason to try this lottery.
The Zodiac Draw
Lucky winners of the Zodiac Draw take home 6 million dollars! It makes this game definitely worth it. If you boy a ticket of 15 dollars, 300.000 dollars could be yours in just seconds. Or perhaps you're dreaming even bigger. Every last Sunday of the month there's a guaranteed sole winner of 8 million dollars of the 'Mayan Prophecy Draw'. The odds are 1 in 5 and with a 20 dollar ticket you have a chance of winning 400.000 dollars. Not bad at all, isn't it?
Magno Draw
Imagine what you can do with 75 million dollars. Some winners of the Magno Draw really had to deal with this question! Most participants pay for a ticket of 100 dollars though. With the odds at 1 in 5 they have a chance to win 1,250,000 dollars, also a large amount of money.
The Gordo Christmas Draw
Christmas is a great time, not just because of the snow but also because you can participate in the Gordo Christmas Draw. It has an incredible Jackpot of 150 million! If you invest 100 pesos for a ticket, you might take home 2.5 million Mexican Pesos! The winning odds of this game are 1 in 5.