The Melate Retro is one of the most exciting lottery games of Mexico. You can win a great Jackpot when the six numbers on your ticket match with those that appear during the draw. Nowadays you don't even have to go to the store to buy a ticket for the Melate Retro lottery, since they're also available online. This popular lottery takes place every Tuesday and Saturday, so become part of the excitement and perhaps you become the luckiest person of Mexico!
Buy your Melate retro tickets >>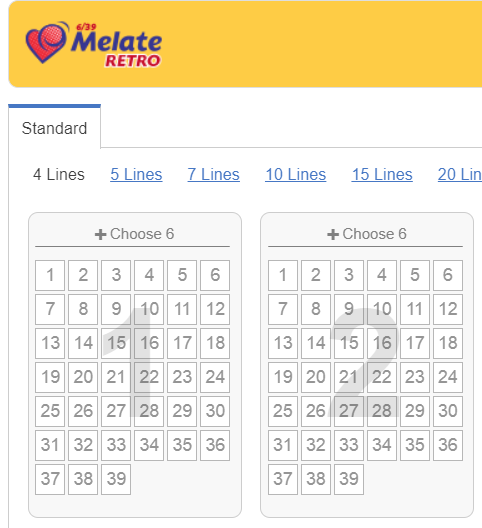 How do you participate in the Melate Retro lottery?
It's really easy to participate in the Melta Retro Lottery. After buying a ticket you have to choose six numbers from a 1-39 guess range. Six numbers have to match to win the Jackpot. Since the range is 1 to 39, you have a pretty good chance to win a prize. A bonus number is drawn as well. There are seven prize divisions in total, and hopefully you' ll end up in the highest ones. You need the bonus number to possibly end up in the second, sixth and seventh prize division.
Sign up for e-mail notifications or download the apps
Winners of this lottery are very lucky, but they're required to pay a tax of 7 percent. This applies to all Mexican lotteries. If you like to receive the results of a Mexico Melate Retro draw, just sign up for an e-mail notification in your account. You get important information immediately after the draw. It's also possible to download a free app for your Android telephone, iPhone or iPad. With the apps of theLotter you have instant access to important information about the Melate Retro lottery, as well as the latest results. In total the latest ten draws of this lottery are shown.
What kind of information can be found in the apps?
Some information about this lottery can be very useful. Besides the results, the winning numbers and draw schedules can be viewed as well. The results of eighty other worldwide lotteries can also be found in the app. Or perhaps you like to select your lucky numbers for the next draw of the Mexico Melate Retro Lottery. That's possible as well, on your computer or smartphone. So it doesn't matter where you are on the world, the results of this great lottery are always available.